92% Hypoglycemia Reduction with EndoTool IV: UPMC Central PA's Success Story
The management of patients with intravenous insulin is fraught with challenges when a standardized dosing protocol is utilized.
These challenges include increased nursing workflow, the potential for dosing errors due to the complexity of the protocols, and the occurrence of hypoglycemia due to the lack of patient specificity with the protocol.
The use of insulin dosing software such as EndoTool IV, is able to minimize the occurrence of these challenges.
Outstanding, error free clinical results with EndoTool IV insulin dosing software are consistently achieved including:
hypoglycemia rate < 70 mg/dl of 0.30%,
severe hypoglycemia rate < 40 mg/dl of only 0.01%
severe hyperglycemia > 300 mg/dl of only 0.34%
On average patients will attain the desired target blood glucose value in 5-6 hours.
While it's difficult to quantify every benefit of EndoTool IV (the majority of hospitals haven't tracked all the metrics before using the platform), UPMC Central PA has taken the lead. They've dived deep into the data after adopting EndoTool IV!
Assessing the Impact of EndoTool IV at UPMC Central Pennsylvania
Discover UPMC's approach to a 92% reduction in hypoglycemia, leveraging workflow enhancements and enhanced clinical results with EndoTool IV.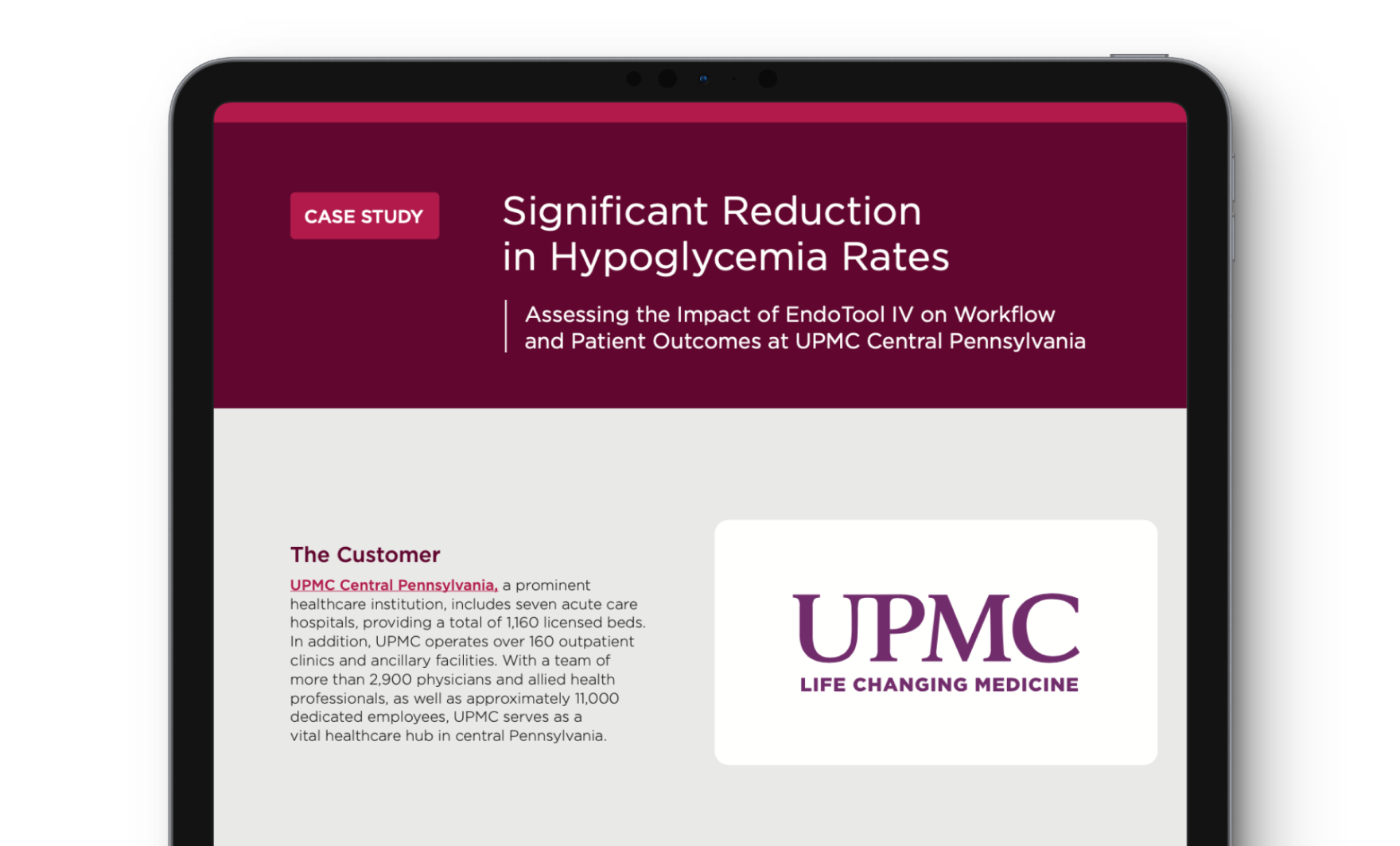 The Focus At UPMC
UPMC Central Pennsylvania , a seven-hospital system with a total of 1,160 licensed beds, has prioritized improving the care of hospitalized patients with diabetes for several years. The increasing complexity of care, along with workforce challenges, was further compounded by the COVID pandemic.
To address these issues, UPMC Central Pennsylvania, which is part of the larger UPMC system, implemented EndoTool IV insulin dosing software in July 2022.
Prior to EndoTool IV implementation, they assessed a group of patients treated with their in-house dosing protocol and compiled data on metrics, including:
time on insulin infusion
time to goal
frequency of glucose checks
length of stay
rates of hypoglycemia
Their results after implementation are quite compelling and summarized below. What is most notable is that all stakeholders involved in the management of patients on intravenous insulin benefited from this – whether it's nurses, providers, hospital administration and most importantly, patients.
How Did UPMC Benefit?
92% Reduction in Hypoglycemia for Patients
When treated for Diabetic Ketoacidosis, patients experienced a hypoglycemia rate (<70 mg/dl) that decreased from 4.67% to 0.35% (92% reduction). For all other patients this rate decreased from 1.9% to 0.53% (72% decline) after ETIV implementation.
There were only six episodes of severe hypoglycemia < 40 mg/dl among 2,862 patients!
46% Decline in Blood Glucose Checks and Decreased Cognitive Burden for Nursing
Improvements in workflow included a 46% decline in blood glucose checks and time on infusion decreased by 17 hours. Fewer hypoglycemic episodes also positively impacted workflow.
Finally,UPMC staff nurses experienced a decrease in cognitive burden when using EndoTool IV compared to an error prone and confusing manual dosing protocol.
Nurses Trust in EndoTool IV Recommendations Minimized Calls to Providers
Nursing followed EndoTool IV dose recommendations 99.3% of the time. On average this translates into only one phone call to a provider for every 143 dose recommendations.
In addition, providers were pleased with the simplicity of ordering EndoTool IV with full EMR integration.
Reduced Length of Stay and Cost Efficiency for Hospital Administration
DKA patients experienced a length of stay (LOS) reduction with EndoTool from 7.3 to 4.5 days. The LOS for all patients treated with EndoTool IV was reduced from 11 to 8.6 days. In today's resource constrained environment considerable cost savings can be realized by utilizing EndoTool IV.
As the Centres for Medicare & Medicaid Services (CMS) is now monitoring the frequency of hypoglycemia and hyperglycemia in hospitalized patients, hospitals attaining these outstanding results with EndoTool will fare better when this data is publicly reported and tied to reimbursement.
In Summary
The workflow enhancements, superb clinical outcomes and the reduction in resource utilization achieved by UPMC with EndoTool IV are comparable to the results obtained by many other hospitals using this platform. All stakeholders involved in the treatment of patients with intravenous insulin can readily identify the benefits of utilizing EndoTool insulin dosing software.
Dive Deeper into UPMC's outcomes and download the case study.
Assessing the Impact of EndoTool IV at UPMC Central Pennsylvania
Discover UPMC's approach to a 92% reduction in hypoglycemia, leveraging workflow enhancements and enhanced clinical results with EndoTool IV.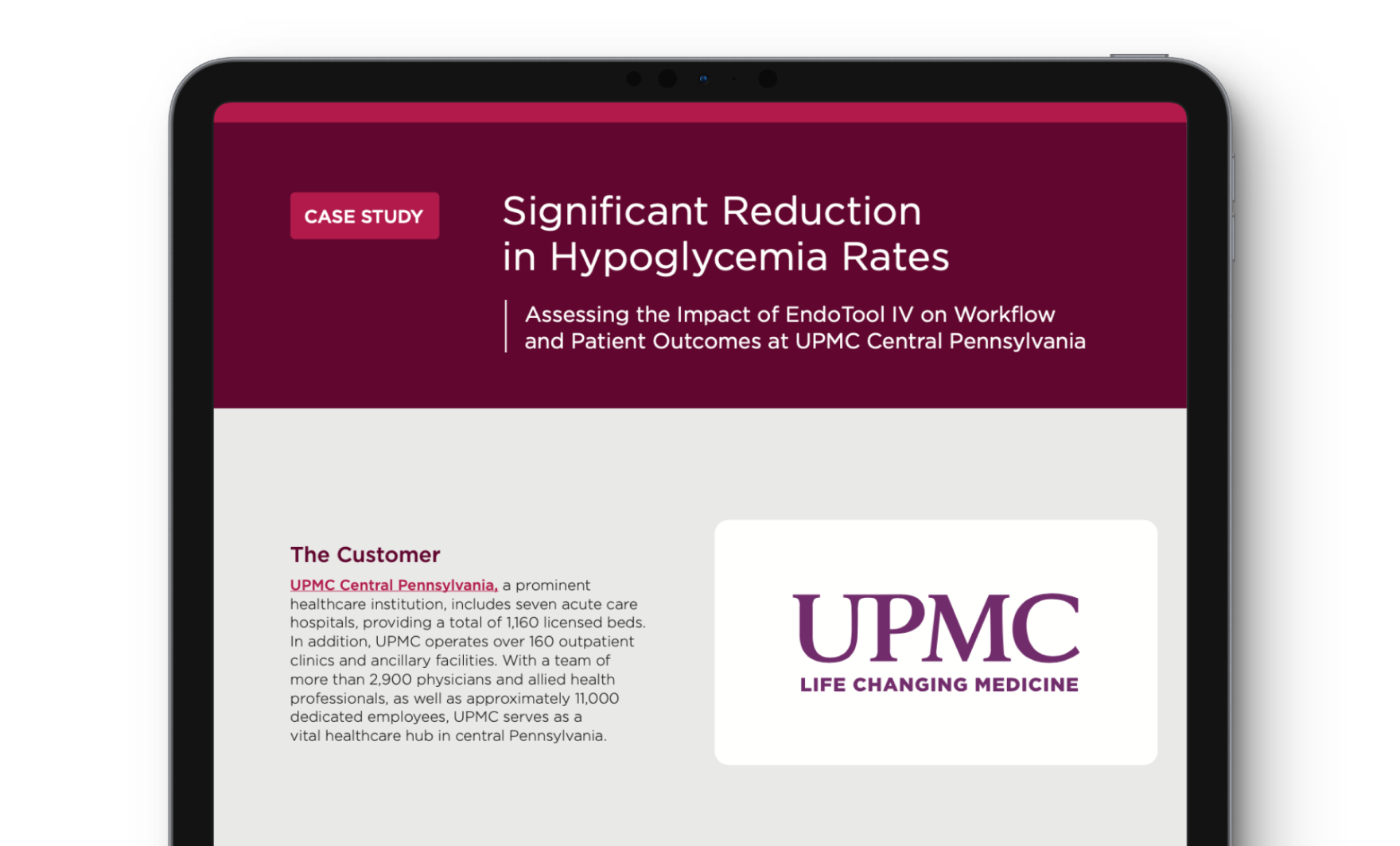 About EndoTool
EndoTool insulin dosing software is a machine learning application that individually recommends dosing of insulin for patients on either IV or subcutaneous insulin. The recommended dosing is specific and different for each patient based on multiple clinical characteristics. The FDA-cleared platform is utilized in  hundreds of hospitals across the United States and is fully integrated with multiple different electronic medical records. To see how EndoTool can support your institution, request a demonstration today.